Groundwater Control- Artificial Lowering of Ground Water Level
Sky Dewatering has extensive experience in delivering dewatering solutions and know-how for the local and entire MENA region. Sky Dewatering specializes in wellpoint dewatering and deep well dewatering systems for groundwater control. We can provide prompt solution in line with the customer's requirement and have a varied range of dewatering plant and equipment to render dewatering services for immediate hire or sale. The equipment fleet includes a range of self – priming centrifugal dewatering pumps, a range of bore hole deep well pumps as well and a full selection of dewatering accessories.
Dewatering is a critical and responsible construction scope of your project and we would propose you to have efficient groundwater control system installed on site, which could avoid possible unforeseen ground related issues during excavation. If professional help is not taken with regards to the dewatering services that could lead to costly and difficult problems, with serious implications for the project and operator Health and Safety. That's where Sky Dewatering can support you and offer a professional and cost effective dewatering solution.
With changing times most of the project excavations are reaching below the water table, our cost effective dewatering solution used in conjunction to powerful diesel dewatering centrifugal pumps or deep well bore hole pumps with and well supported services, help you to control and remove subsurface water quickly and effectively. Sky Dewatering has added expertise in ground water control and general pump hire that would not only provide satisfaction to the customer but also outsmart any other provider in the region.
Our dewatering and ground water control capabilities have been tried-and-tested many times in the harsh Middle Eastern climate. Our Sky dewatering pumps and deep well bore hole pumps are specifically adapted for the high saline water conditions found within the Middle East.
Conventional Well point Dewatering
Well point dewatering is one of the most efficient, adaptable and consistent methods of ground water control available. We supply the complete groundwater control service: from site survey design and calculations (using our extensive knowledge of existing subsoil conditions), to recommending and installing the best possible ground water dewatering system. As part of our installation, we install a number of well point spear tubes of 50mm diameter, screened by filter packed gravel, so the underground water is drawn down efficiently.
As standard, all our well pointing dewatering pumps are fitted with high capacity vacuum pumps, allowing the maximum draw-down and highest number of well points to be installed per pump. Our self-priming diesel powered dewatering pumps which are high efficiency pumps are equipped with Vacuum Kits at the suction side of the dewatering pumps are ideal as they are fully automatic self-priming type pumps powered by either diesel or electric motors.
The well point installation is one of the most conventional methods of dewatering and has not much changed conceptually in years from the time of its inception. The basic components are a self-priming diesel powered pump, well point spears and swing hose which is connected to header ring main pipes.
The intake end of the Sky dewatering pump set is connected to a level header manifold, which runs alongside the perimeter of the proposed excavation. The header pipe distributes vacuum to a series of individual well points and transfers the water lifted from these well points to the dewatering pump set. Well points are long thin tubes constructed with a screen intake and usually a surrounded by a filter pack gravel, drawing the water from the ground by the suction generated by the pump. The aforementioned well points are generally small in diameter mainly of 50mm sizes.
Well point dewatering systems enable the groundwater table to be lowered for deep and large construction sites in high permeable soils. It is a proven and very flexible system within this environment. The water is pumped from well points, installed along the perimeter of the site. The well points are jetted in and spaced to obtain the optimal draw-down against lowest capacity. The well points with integral strainers are then joined to transparent swing flexible hoses, which are connected by quick release couplers to the ring main header pipe. The ring main header pipes are then connected to the self-priming or vacuum assisted centrifugal pumps.
A well point dewatering system can consist of well points with 1metre centre distance and are in hundreds of numbers depending upon the construction area and the required installation. These well point network is connected in series with the Sky high vacuum priming diesel dewatering pumps. This is a popular solution within the construction and dewatering industry. Typically, well points are installed around the perimeter of an excavation or within the excavation if there are space constraints and later be sacrificed as the abandon dewatering system which is installed below the formation level thereby facilitating construction and also maintaining the lower ground water levels for the required duration of the project.
Closed Loop Well Point Dewatering Installation
With deeper excavation above 5metres below ground level and going upto 9 metres in a sub saturated strata, a multi-stage well pointing dewatering installation would be proposed and installed to achieve the required excavationdepth.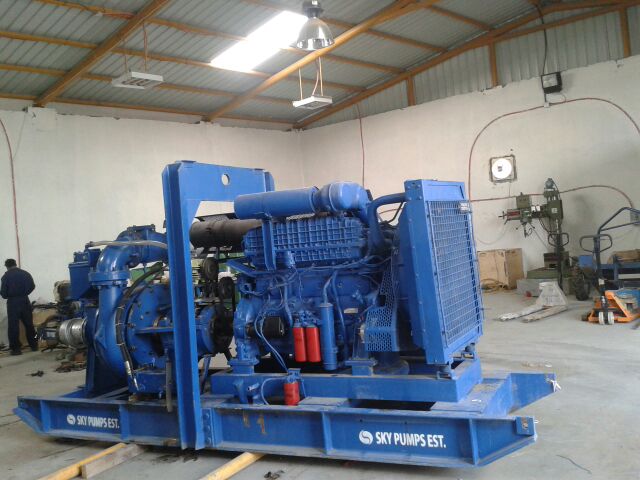 Trench Excavation with Well Point Dewatering Installation
Depending upon the width of the trench and the radius of influence of the installed system single side or twin side installation of the well points would be adapted to achieve the required depths. This method is adapted for pipelines and other similar applications with progress in installation the system installed is rolled over alongside the route, preceding excavation and pipe laying. Equipment from a previously completed and backfilled section is installed at the head of the line, removing the need for large quantities of equipment.
Well pointing systems are used principally to lower groundwater levels around foundations ensuring stable working conditions are maintained. A closely spaced series of small-diameter shallow tubes (or wells) are connected to a common header pipe where a partial-vacuum is created. A typical installation of the Sky high-efficiency vacuum dewatering pump can control a 100m length of well points. For draw-downs greater than 6m, further stages of well points are often installed at lower levels as the excavation progresses.
Well pointing is particularly effective for moderate draw-down duties across a wide range of ground types from gravel through to fine sand as often found in the Middle East. Drilling installation may be required in coarse or hard soils but for much of the Middle East in sandy environments a more rapid and cost-effective well point installation process is to jet in the well points using high-pressure water jetting pump.
In addition to a more rapid a lower cost installation, pre high pressure jet flushes the well point locations also encourages an improved hydraulic conductivity through the granular filter pack to enhance performance iof the entire system in varied heterogeneous soils structures.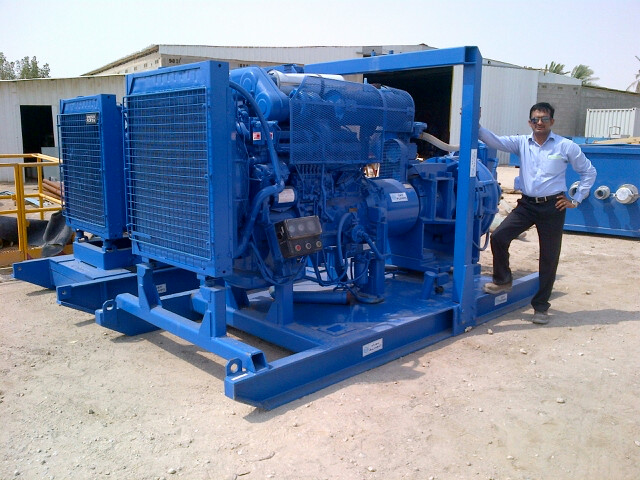 Sump pumping is used in more homogeneous substrata with low permeable soils structure. The groundwater table is lowered table by pumping the water directly from sump-pits along the toes of the slopes of proposed excavation works. The pump inlet is connected with a wire armored rubber suction hose with strainer is freely suspended in the sump and the collected water is automatically primed and discharged by the Sky pump. The open dewatering system is therefore simple to install and operate. The open dewatering system utilizes self-priming or vacuum assisted centrifugal pumps of sizes 6inch or 8inches depending on the water ingress into the sumps.
The deep well system is a clean installation with only the initial time spent during excavation stage to strategically position the deep well locations so that it does not conflict with the construction schedule. These deep well system are generally used out when the water table needs to be lowered by more than 7 metres using single stage installation or when there are space constraints on site with regards to having step cut excavation or when conventional well pointing in stages isn't feasible, Sky Dewatering can offer an economical Deep Well dewatering solution. The method adapted is that a hole is bored from the surface level to a design depth below that of the final invert levels. A PVC well screen which is suitable for the water well installation is selected with proper slot size that is then centrally positioned into the hole followed by filter pack gravel within the outer surface of the screen and the bored hole. Then the installed well screen is flushed using compressed air venturi system followed by the electric slim line series submersible pump is then lowered into the well. Once the submersible pump is connected to a power source the gradual lowering of the ground water table is achieved.
The borehole pumps that are used in deep well dewatering applications are often stainless steel high efficiency, multistage electro submersible units, with discharge heads of over 50 metres, this system can reduce groundwater levels for even the deepest of open excavations.
Typical Deep well Installation
Sky Dewatering can offer a skilled supervision team to assist in the full installation service for deep well applications, our highly experienced engineers will visit your site and by using soil investigation reports and analysis will advise you on the best solution for your dewatering requirement. Sky dewatering team will advise on the design depth of each well, number of wells, positioning to ensure that the excavation remains dry through the construction schedule.  Once the system design has been approved drilling rigs will bore the holes in readiness for the well screen to be installed. The well screens are typically 150mm or 400mm in diameter and are joined together to provide the required length.
The wells are often surrounded with additional gravel pack filter media to aid drainage and prevent fines from entering the system. Once the well has been flushed it is ready to have the borehole pump installed. The type and size of pump used will match each application. The pump is carefully lowered into the well where it is safely installed. Once again the depth at which the pump is installed will depend on the final depth of excavation, although the pump will always be installed away from the base of the well. The electric cable that is fitted into the pump motor is taken up the well where it is connected to a power supply via one of our control panels. Each borehole pump is connected to a independent pump control panel with all the required visual indicators like trip lamp, run, stop lamp indicator. In case of mechanical breakdown the revolving lamp on the individual control panel is triggered and the revolving lamp gives a visual indication to attract attention of the site agent. 
Each control panel is normally fed from a mains distribution board unit, which is supplied from a mains supply or generator. Sky Dewatering can also provide the distribution unit generator, fuel tank and even provide a fuel management service throughout the project cycle. Each pump discharge is connected to a common discharge main by means of individual flexible hoses, non-return and isolating valves. When the system is commissioned a Sky Dewatering technician will balance each well to ensure optimum performance.
On commissioning the deep well system and on system operation signposts our service continuity, some of the larger sites will have a permanent Sky Dewatering Operator on site 24 / 7 to ensure that the system is well maintained and operating at peak efficiency. Others may prefer periodic visits. Either way our emergency service is available 24/7 to provide an instant response to any unforeseen problems.
We can provide assistance with our skilled and experienced staff and offer services that are available on flexible terms, with pumps for long or short-term hire at competitive hire rates.
Dewatering is the removal of water from solid material or soil through centrifugation, filtration, or similar solid-liquid separation processes. Dewatering is the accepted term used to describe removal or draining of groundwater or surface water from a construction environment by pumping or evaporation. Within a construction site, dewatering may be implemented before subsurface excavation (for foundations, shoring, or cellar space) to lower the water table. The use of submersible "dewatering" pumps, centrifugal pumps, ejectors, or engagement of vacuum to well points submerged in the ground.
Construction of buildings, power stations, ports and many other major structures requires significant below water table excavation into water-bearing soils. Sky Dewatering delivers dewatering solutions for such excavations requiring the controlled lowering of the water level below the slopes and bottom of the excavation to ensure dry, firm working conditions are maintained for productive construction operations. We control groundwater through several forms of dewatering systems selected based on the size and depth of the proposed excavation, geological conditions, and characteristics of the soil.
Construction sites are dewatered for the following reasons:
To facilitate stable and suitable work surface at the bottom of the excavation.
Stabilize the shoring of the excavation thus avoiding the hazards of slides and caving.
To avoid soil stability at the bottom of excavation.
Lowering the water level also increases the effective weight of the soil and consolidates the soil layers. Reducing lateral loads on sheeting and bracing is another way of use. A number of dewatering methods are available for controlling the inflow of water into an excavation; the choice of method will depend on the nature and permeability of the ground, the extent of the area to be dewatered, the depth of the water table below ground level and the amount by which it has to be lowered, the proposed methods of excavation and ground support, the proximity of existing structures, the proximity of water recharge etc. Sky Dewatering offers free, no obligation, site surveys and quotations for all aspects of dewatering and ground water control – taking in to account all of these site variables.
Efficient ground water control reduces operational risks on site. A water-logged site not only results in delays (incurring penalty charges) but it can also be a hazardous work environment. Groundwater pressure can collapse workings without warning. Effective groundwater control is, therefore, essential where the depth of the proposed excavation is likely to be below the standing water level. Sky Dewatering has the unrivalled expertise and specialist equipment to deliver the best dewatering solution.
Our powerful Sykes dewatering pumps and proven services ensure we can control and remove subsurface water quickly and effectively. Our dewatering and ground water control resources and capabilities have been tried-and-tested for many years in the most severe climatic and saline water conditions within the Middle East. Typical dewatering pump applications include pit dewatering and general dewatering, lowering the water table, all general pumping requirement and applications, building and construction sites, civil engineering projects, water utilities companies, local municipality works, flood disaster recovery, load out stabilization, slurry transfer, ash handling, water boosting and pipeline filling and testing.
Dewatering - Centrifugal Pumps
The Sky Pumps range of robust and highly reliable centrifugal pumps are designed for handling high volumes of water. Our centrifugal pumps convert the input power to kinetic energy in the liquid by accelerating the liquid by an impeller. A vacuum is created at the impellers eye which continuously draws water into the centrifugal pump. Water enters the pump through the eye of the impeller which rotates at high speed. This water is then accelerated radially outward from the pump chasing. Centrifugal pumps are used for large discharge through smaller heads. The centrifugal pumps available from Sky Pumps are fully automatic, dry priming and designed to run 24/7.
Dewatering - Electric Submersible Pump Hire
The range of Sky submersible drainer pumps are also ideal for dewatering at all kinds of construction sites. Their simple handling and unrivalled capacity make them ideal for many ground water control and industrial applications. Sky Submersible Drainer pumps range from 50mm to 300mm diameter. The volume of material Sky submersible drainer pumps will move depends on the application and size of the pump the material content. Well-known brands of submersible pump units for drainage, sludge etc are available. We have established a range of submersible pumps to meet the demanding requirements of UAE and Gulf State customers, lifting water from great depths and lowering the water table efficiently. These pumps are specific to Sky and combine reliability with excellent serviceability, resulting in unrivalled operating economy. They consistently deliver hours of unattended operation in even the harshest environments.
Dewatering - Hydraulic Submersible Pump Hire
When suction lift requirements exceed ten metres for diesel driven pump sets and if there is a high suspended solids content within the liquid, the ideal dewatering solution is using a hydraulically driven submersible pump (centrifugal pump driven by a hydraulic power pack motor).
With economic development of the Saudi Arabian market which continues to expand and develop its vast infrastructure, Sky Dewatering supports this development by offering a unique combination of specialist pumping services from pump equipment hire, dewatering consultation, and a complete dewatering hire solution.
In the Eastern Province of the Kingdom of Saudi Arabia, Sky Dewatering are proud to have established a and running operations from Al Khobar, Abqaiq, Rabigh, Yanbu and Jeddah. As a specialist one stop pumping solution providers for construction contractors and equipment rentals company.
Our dewatering and ground water control solutions are unrivalled. Our equipment is precision manufactured featuring hardwearing cast iron and bronze parts with other corrosion resistant materials throughout. Our pump range, includes diesel pumps, electric pumps, submersible pumps, submersible sewage pumps, dewatering pumps, centrifugal pumps and hydraulic pumps ranging from 1″ up to 12″ are used across many industries and nations for ground water control and dewatering.
Sky Dewatering offers the most comprehensive range of hoses, fittings, control panels, settlement tanks, drop trays and fuel tanks. A one-stop shop for all ground water control and dewatering solutions – however simple or complex the project may be.